My first attempt at busking
While I was at the National Puppetry Festival, I took a class on Urban Busking. For those who aren't familair with the term, it's basically street performance for money. I was curious about how it worked and what the show structure was like. The class covered things like how to get a permit and the practicalities of busking. I then had a good conversation with Madison J. Cripps, a wonderful puppeteer, about the structure of a busking show. He suggested having two minutes of material that you just repeat, over and over.
The tiny little puppet show that I do at my readings is two minutes long.
I also talked to my old mentor, Peter Hart, who walked me through how to pick a performance spot by taking me with him when he was selecting one at the festival. You have to think about traffic flow, having a place for the audience to be, and the location of the sun.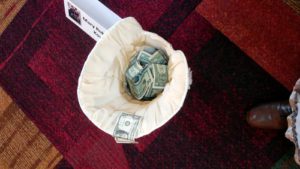 So… at GenCon, I got a permit to busk. Then put on the Regency clothes, set up the shadow puppet show, and put my bonnet out. I "seeded" it with a dollar and also set out some and books, just to see if I could sell any.
I only busked for an hour, before I had to leave to check out of my hotel room. How'd I do?
In that hour, I made $61 dollars and sold two novels. I'd put out a couple of dozen cards about the novels and only had three left so… I call this a success.
It's a strange way to promote one's novels. I have no idea if it will result in any additional novel sales, but unlike most promotional efforts, this resulted in money in, rather than money out. That's a win, right there.
Plus it's fun.